Blue Screen Errors
What is a Blue Screen Of Death ? The now infamous Blue Screen of Death (BSoD) or more properly the 'Windows stop message' has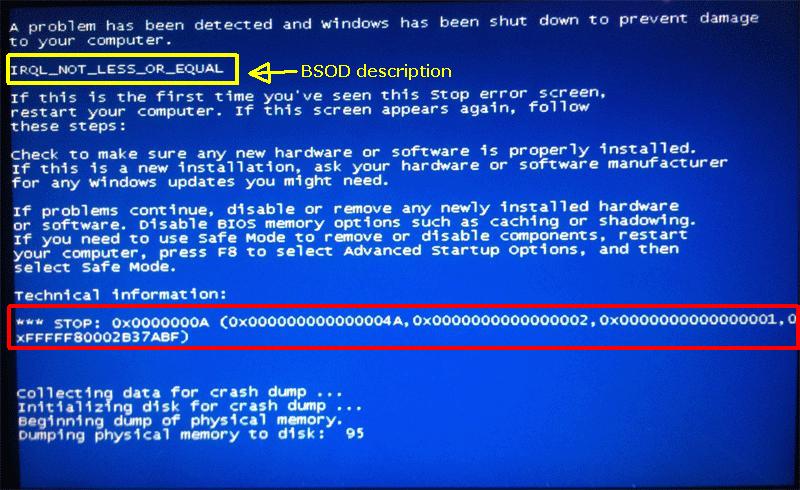 been around since the early days of Microsoft Windows.
There are many causes for this error: Bad DLL's, incorrect device drivers, bad memory, damaged registry etc. It usually occurs when Windows detects a problem or error from which it cannot recover.
The operating system halts and diagnostic information is displayed on a blue screen and detailed information is collected and stored in a file called a minidump. This error has become less predominant with modern computers. Receiving such an error these days, is much more serious than it used to be.
At LaptopDoctorCR we have a vast experience dealing with BSoD errors and can quickly pin point the cause, and come up with a solution to rectify the problem.
Common BSod seen are:
Stop Code: STOP 0×0000000A
IRQL_NOT_LESS_EQUAL
possible cause : Faulty services from virus scanners or backup utilities or device drivers.
Stop Code: OX000000ED
UNMOUNTABLE_BOOT_VOLUME
Occurs if Windows if unable to access the volume containing the boot files. Possible hard drive problems, or malicious software can be the cause.
Stop Code: STOP 0×0000001E
KMODE_EXCEPTION_NOT_HANDLED
possible cause : Some driver files cause this error.
Stop Code: STOP 0×00000024
NTFS_FILE_SYSTEM
possible cause : This error is generally caused due to disk corruption.
Stop Code: STOP 0×00000050
PAGE_FAULT_IN_NONPAGED_AREA
possible cause : This Stop message occurs when requested data is not found in the memory. The system generates a fault, which normally indicates that the system looks for data in the paging file. Faulty hardware, a buggy system service, antivirus software, and a corrupted NTFS volume can all generate this type of error.
Stop Code: STOP 0×0000007B
INACCESSIBLE_BOOT_DEVICE
possible cause : This error always occurs while the system is starting.it could be an incorrect driver for a SCSI, RAID or UDMA IDE controller, or a failed boot device, or boot.ini problems.